Print Your Own - New Product

The Armorial History - As displayed
The Coat of Arms, Family Crest and Surname History. The perfect gift. The Armorial History combines our time tested Surname history with a full color rendition of the earliest coat of arms once associated with a bearer of the surname. Perfect for any occasion. This is a gift that will be proudly displayed in any home and will be the topic of conversation again and again!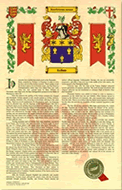 Each Armorial History includes:

Full color Family Coat of Arms
Ancient origin of the name
Spelling variations
Early movement of the surname during the Middle Ages
Noteworthy bearers from the 1500-1600s
First settlers to North America
Contemporary notable bearers of the name or variants
Unique Certificate number
Seal guaranteeing the authenticity
Full Color Watermark of the country of origin
Surname histories can be up to 1,800 words long and are normally printed on 11"x17" paper.
OR NOW

Our "Print Your Own" Service means that instead of being printed and posted, you can save time and money when we email it to you as a PDF file within a day of receiving your order, you can print you own as often as you like.
Ideal for having a copy for each member of the family.
Take advantage of our Introductory Offer Only $55
Order yours NOW on our secure online store and
start printing your Armorial Today